NORTH CAPE EXPEDITION 2021
BLISS MOBIL NORTH CAPE WINTER EXPEDITION THROUGH SWEDEN, NORWAY AND FINLAND
Start your Bliss Mobil and get ready for a goose bumps-packed trip through Sweden, Norway and Finland. It's not just the weather that'll give you goose bumps – even though temperatures drop to about -20 degrees Celsius at the end of February/beginning of March – but also the unique experiences on this adventure full of natural wonders and unforgettable moments. This not-for-the-faint-hearted-expedition is literally and figuratively cool, with extreme temperatures, rough landscapes, colourful fisherman's villages, clear skies and – if you're lucky – the spectacular northern lights.
A 3,800-kilometre long polar adventure through winter wonderland
The 17-day expedition will take you straight through the coldest area of Scandinavia in February/March. The Bliss Mobil North Cape Expedition is a journey of extremes, packed with challenges and adventure. But, of course, there's also time to defrost in the sauna or exchange some tales sitting beside the fireplace, while sipping a glass of bränvinn. In short: a true Bliss Mobil-worthy journey of about 3,800 kilometres, with 12 days of hard work behind the wheel and 5 days to catch your breath.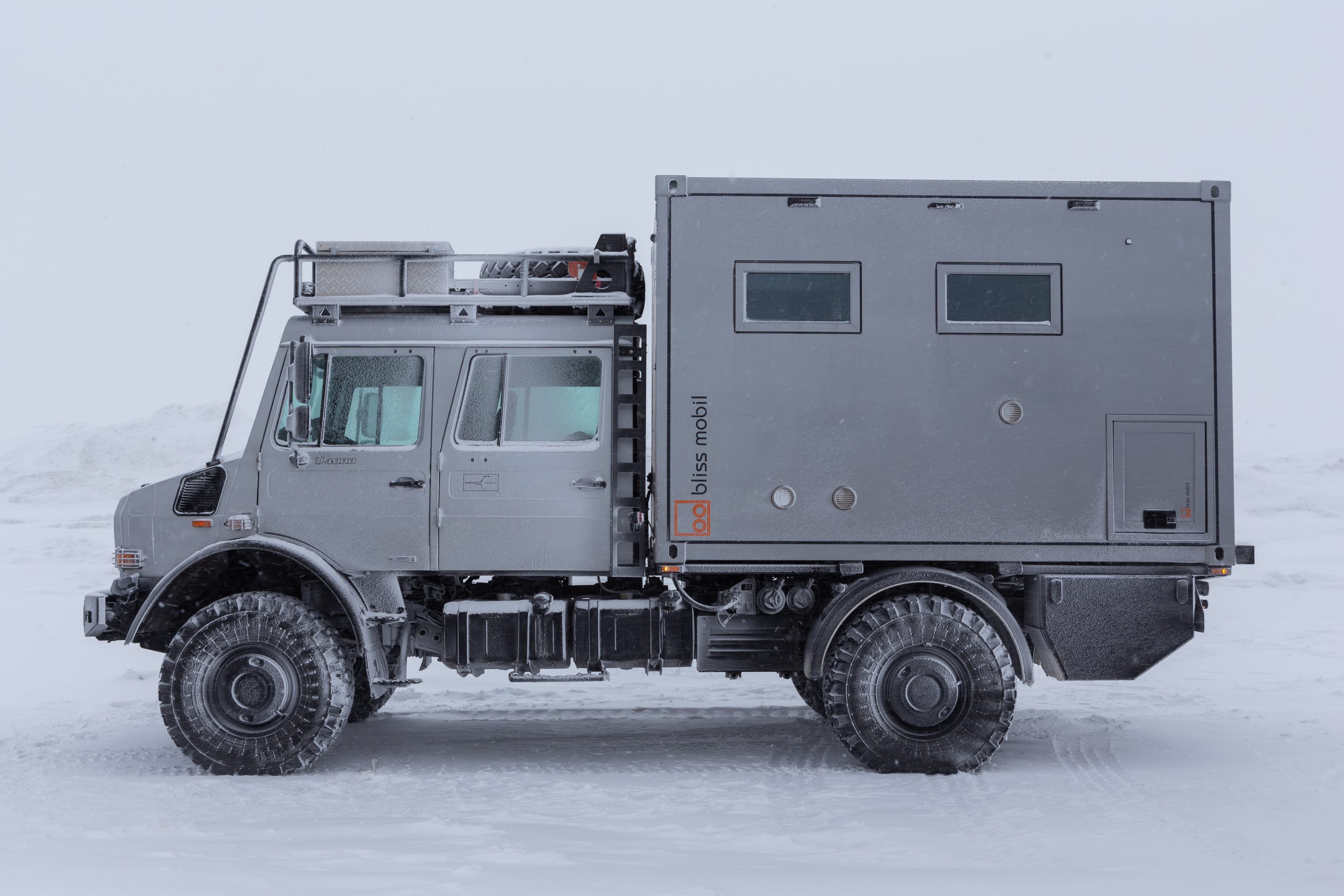 On the way to the northernmost point of Europe
We're starting this cold, yet heart-warming adventure in Oslo, after which your intensive northern-bound adventure begins. It goes without saying that we'll travel the most gorgeous roads in the area. Via a beautiful route, also partly used during the World Rally Championships, we'll be braving the rough wintery conditions on the road to the North Cape.
"During a Bliss Mobil Expedition, it's not about how fast you get from A to B, but what you see, do and experience along the way."
A good chance of northern lights
Statistically speaking, chances are good we'll be able to witness the northern lights with our very own eyes in February/March. During this month, there are relatively a lot of explosions on the sun and chances are significant that you'll be able to see the aurora borealis dancing in the sky. The spectacular show of colours varying from neon green to fuchsia purple is a mystical and extraordinary experience that is bucket list material for many a traveller. That's why, before we'll be heading up the coast across the peninsulas, we'll also be crossing the area that gives us the highest chance of seeing the northern lights. So if we're lucky enough, we might bear witness to this exceptional natural phenomenon several times during our expedition.
Extraordinary wintery activities
There's more on our to-do-list filled with special activities: from spending the night on the high plains to high speed driving on a frozen lake, ice fishing and spotting the northern lights. Weather permitting, we will board a rib boat in one of the pretty villages of Vesterålen in search of whales. These giants of the sea swim between the fjords in wintertime, searching for delicious snacks to regain their strength after their trek of thousands of kilometres. We will also sail with an icebreaker for an unforgettable boat trip straight through the ice. Are you brave enough to take a plunge in the ice cold waters?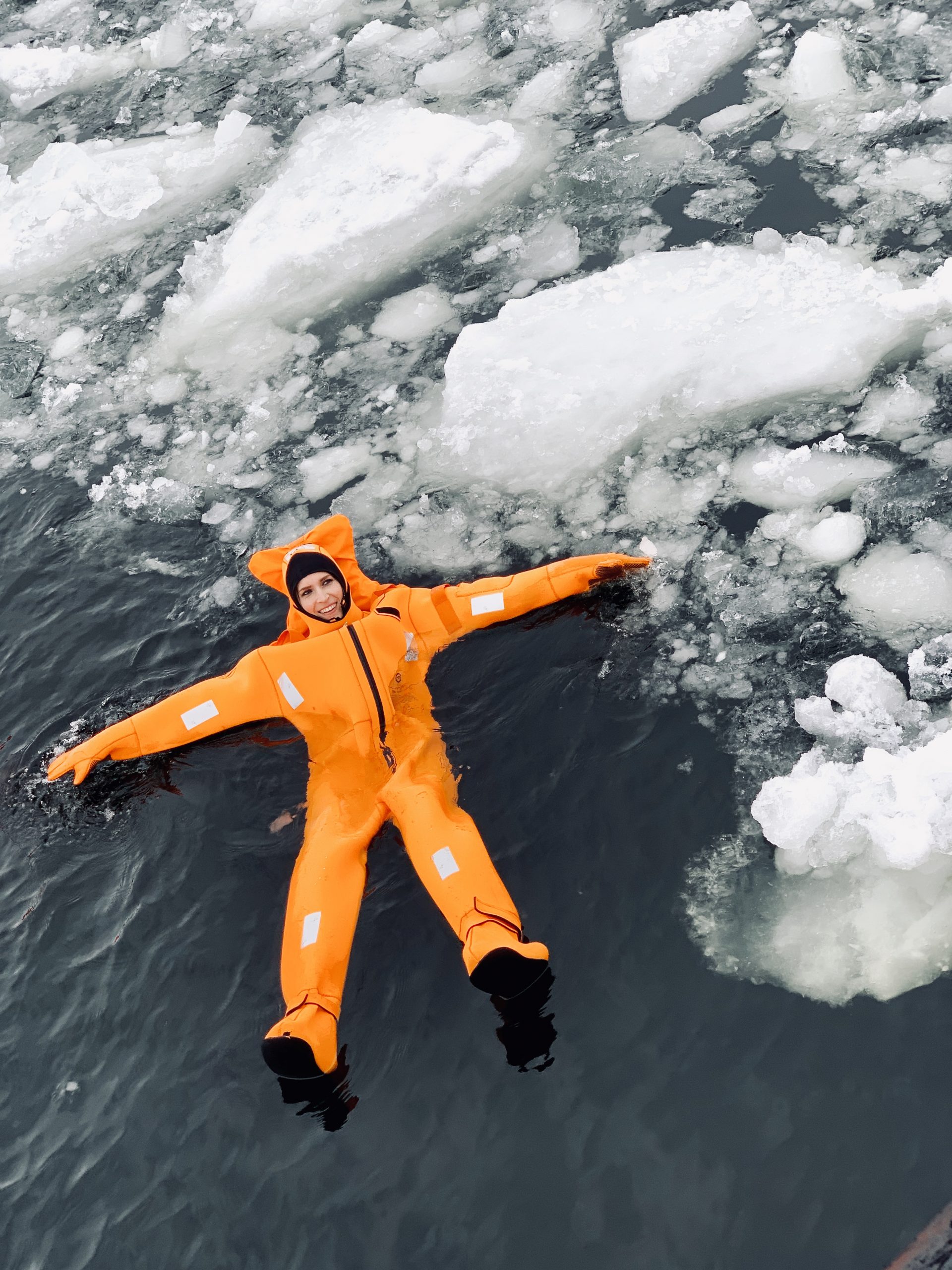 As you can see, this expedition is comprised of highlights only. Not just as far as experiences go, but that includes the route and challenges as well. After all, we're on our way to the northernmost point of the European continent, and that means you can't just sit back and relax all the time. Don't underestimate how taxing this expedition is for man and machine alike.
If the weather allows, we'll actually be able to drive towards the North Cape to park our Bliss Mobils and treat ourselves to views until infinity. The only thing left between you and the North Pole is the archipelago Svalbard. But, rest assured, after the North Cape, our polar adventure isn't at its end just yet. Dozens of wintery adventures await you during the last leg of the expedition. We'll continue over the wintery roads towards Finland, where we'll be filling our days with various unexpected winter activities. After a challenging and unforgettable polar adventure, the time has come to finish it in style: on the Arctic Circle in a beautiful log cabin in the wilderness near Rovaniemi. At this truly extraordinary location, we'll be toasting a successful expedition.
An adventurous tour with an endless number of challenges, highlights and unforgettable moments.
Professional organisation, meaning you won't have to worry about a thing: your only task is to drive and enjoy.
This tour includes an adventurous road book, off-road guidance, technical backup and support.
An awesome mix of cultural and natural beauty of Scandinavia.
A number of unforgettable experiences/moments/excursions (surprise).
Stays at unique locations.
Endless amounts of fun and fantastic stories to share.
The possibility to transport your Bliss Mobil to and from Scandinavia (not included).
Transport of your Bliss Mobil to the starting point of the expedition can be taken care of, however, it is not included in the price of the expedition. The price for transportation is based on open calculation and depends e.g. on your start location. More information you will find in the brochure which you can download above.
Because in February/March, we get more daylight to enjoy the fabulous surroundings (and glistening snow). We'll be driving north, where the days are shorter in winter. In February/March, there are more hours of daylight and the weather is more beautiful compared to the preceding months. During the expedition, we can count on about 9 to 10 hours of daylight.
Our journey starts in Oslo.This means you'll have to get to the starting point of the expedition on your own. Of course, Overland Travel offers the option of shipping your truck to Oslo. If you choose to do so, your Bliss Mobil will be ready and waiting for your near the starting point. Price on request.
If you're driving to the starting point, you can take the ferry from Northern Germany to Oslo or Stockholm, or you can drive across the bridge near Malmö. The ferry can be booked on request by Overland Travel. Please contact us if you need our help.
At the end of the expedition – in the middle of the wilderness near Rovaniemi – it's up to you if you want to hang around and enjoy the natural beauty Finnish Lapland has to offer, but you can also:
Have Overland Travel ship your truck home, leaving you to catch a flight home after a strenuous trip. The price of this service is available on request.
Drive to Helsinki in 2 days, as a group, as a Bliss Community. From Helsinki, you can hop on the ferry to Lübeck-Travemünde (Germany).