BLISS MOBIL BIG FIVE EXPEDITION
34-DAY TOUR THROUGH SOUTHERN AFRICA
Pack your bags for an exceptionally adventurous trip through southern Africa's wilderness. In July and August, we will embark on a journey to Namibia to drive through this gorgeous country towards Botswana and Zimbabwe. These three absolutely breathtaking countries in Africa are safe to travel and offer you the opportunity to maximize the use of your Bliss Mobil. You'll see more than you can imagine! From the most diverse landscapes and abundant nature to the most special natural phenomena. And, with a bit of luck, you'll be able to spot the Big Five: buffalos, lions, leopards, black rhinos and elephants.
THE FREEDOM OF INDEPENDENCE
The unique character of this tour makes it unlike any other existing expeditions and tours: Bliss Mobil Expeditions only offer the best, most surprising and most beautiful. This means that the Big Five Expedition has been specifically designed for Bliss Mobils and the accompanying freedom of independence. This tour guarantees that you'll be able to enjoy the ultimate freedom of your Bliss Mobil again and again and that you'll return home with a suitcase filled with priceless travel experiences.
'HARD' WORK BEHIND THE WHEEL
This is truly an off-road tour that cuts across the untouched beauty of Africa, and as we'll be leaving the public roads behind us, this means you'll have to buckle up and work 'hard' behind the wheel every once in a while. We'll wade through rivers, drive through savannahs, swamps and salt pans to Botswana's Kalahari Desert. Although circumstances can sometimes be quite harsh, Overland Travel's Kevin will always be there to guide you. If you wish, he'd be happy to give you advice and tips on how to let out your inner off-road driver and get the most out of this Bliss Mobil Expedition.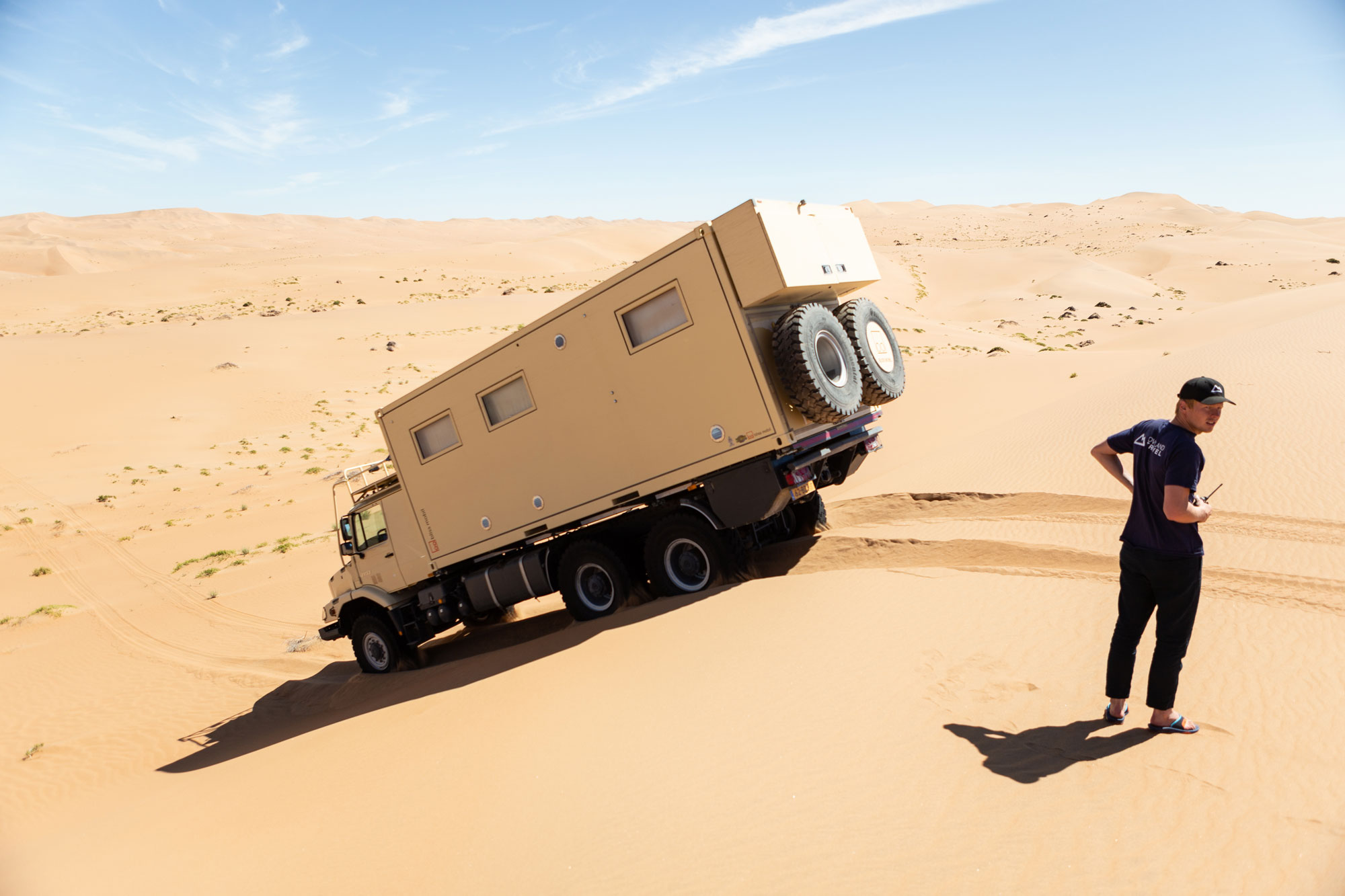 "Whether we're crossing the dunes and Namib desert, or the wilderness in Botswana and Zimbabwe: this tour presents a wonderful challenge and guarantees you will never be bored. Every single day is different. You and your Bliss Mobil will face desert sands, swamps, salt pans, beaches and grasslands. And, wherever possible, we'll be sleeping underneath the stars. "
An adventurous tour with an endless number of challenges, highlights and unforgettable moments.
Professional organisation, meaning you won't have to worry about a thing: your only task is to drive and enjoy.
This tour includes an adventurous road book, off-road guidance, technical backup and support.
An awesome mix of cultural and natural beauty of southern Africa.
A number of unforgettable experiences/moments/excursions (surprise).
Stays at unique locations.
Endless amounts of fun and fantastic stories to share.
Option to park your Bliss Mobil in Namibia if you wish to return later (not included).
Transport of your Bliss Mobil to Namibia is of course taken care of, however, it is not included in the price of the tour. The price for transportation is based on open calculation and depends e.g. on your start location.
WHAT DOES AFRICA HAVE IN STORE FOR YOU?
For five weeks – 34 days – Africa will surprise you at every turn as you drive through the wilderness, alongside the ocean, through nature parks and forests, deserts and you'll get to see wildlife. A tour of contrasting experiences: from the rough, untouched nature of Namibia and the wildlife parks and bush of Botswana, you'll be taken to the impressive Victoria Falls of Zimbabwe.
During this Bliss Mobil Big Five Expedition, you won't know where to look. We'll be driving alongside the Skeleton coast in Namibia, a 700-kilometre long stretch of rough, inhospitable landscape that we'll be crossing (for a small part). Due to currents and weather conditions, this is a very dangerous area for the shipping industry, which means you'll be seeing a lot of shipwrecks. These wrecks – skeletons – are what the area is named for. The area is also home to large colonies of seals. Speaking of animals: Etosha National Park (Namibia) is the first large national wildlife park we'll be driving through. Past the Caprivi, we'll eventually drive into Zimbabwe past Victoria Falls. In Botswana, we'll also get to marvel at the Okavango Delta, a river that does not end in the sea, but an inland delta. Wildlife migrates here to drink and bathe. A little further along, the water evaporates, creating an impressive salt pan.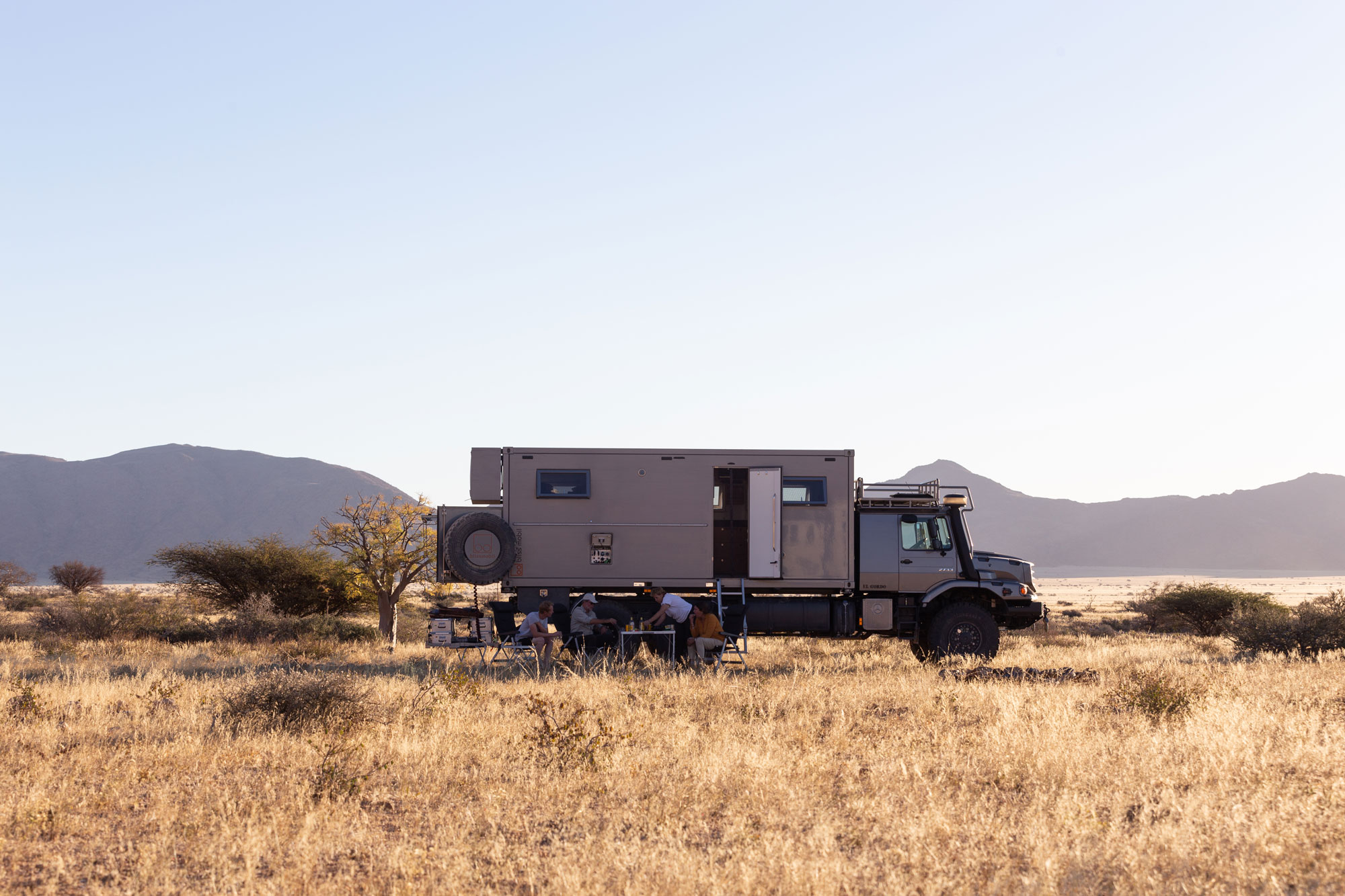 Allow yourself to be enchanted by the diverse African landscape. You'll be surprised how often you're driving through yet again different surroundings or spectacular landscapes. After an adventure-packed day, we'll be sleeping in our home away from home, in some of the most magnificent places in the world, from the salt pans to the delta, dunes, villages and deserts. We're willing to bet you've rarely felt so free in your life.
GUIDED OFF-ROAD EXPERIENCE
During this adventurous tour, we'll offer you the opportunity to boost your off-road driving skills under the watchful eye of Overland Travel owner, Kevin Kooijman. With a background in professional rally, he now works as an experienced auto racing trainer and 'overlander'. In the morning or at night, he will brief everyone about the day to come. This means that he'll be telling you about the route, how long you'll be on the road, what to expect, things to keep in mind and any necessary off-road tips. Of course, during the tour, you'll always have the road book at hand that includes the route and all essential information. A nice backup if you need it.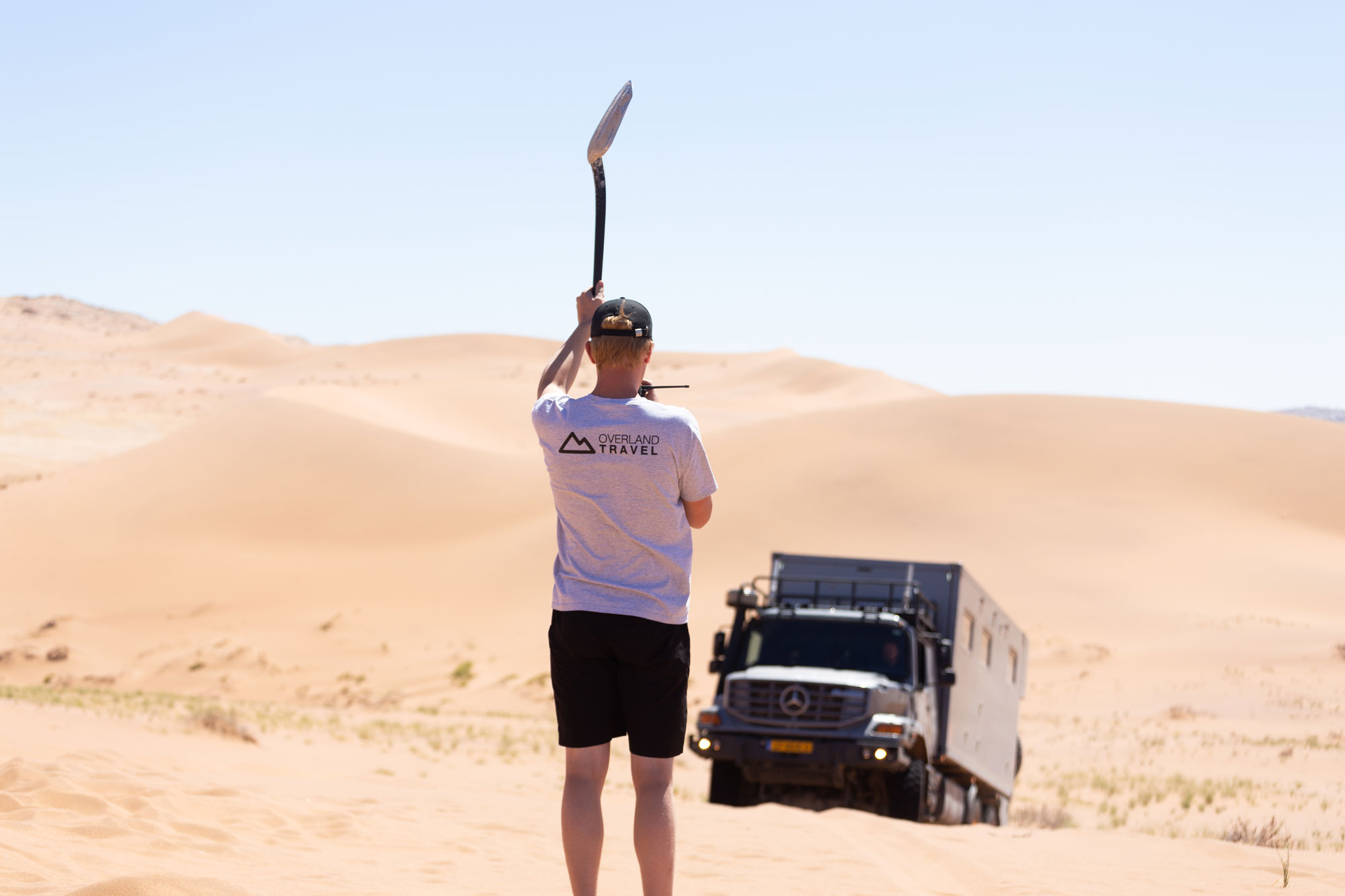 GARAGE: COME BACK TO SOUTHERN AFRICA
Can't get enough of the magnificent, constantly changing environment? Still haven't crossed off the Big Five from your bucket list? Or did you simply leave your heart in southern Africa? Why not come back? Whether it's to see the Bliss Mobil trucks of Mission to Heal in action or to attend the record attempt for fastest on-land vehicle. It is possible to park your Bliss Mobil for a few months in southern Africa so that you can return later and discover even more of what Africa has to offer. Price on request.